Nuu-chah-nulth (Huu-ay-aht) Ceremonial Screen, 19th century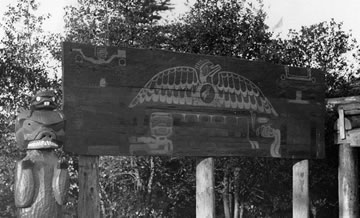 Thunderbird Park, 1950s. BC Government photograph. BC Archives B-07301.





Charles F. Newcombe purchased this ceremonial screen at the Huu-ay-aht community of Sarita, Barkley Sound, in 1911. Composed of a number of horizontal wooden planks, it depicts the complex histories, rights and alliances of a chiefly family. The chief displayed it at ceremonies, such as girls' puberty ceremonies and marriages. The screen was restored and the upper portion replaced when it was removed from Thunderbird Park. This work was done by Nuu-chah-nulth (Hesquiaht) artist Tim Paul in the Thunderbird Park Carving Program. The screen is now in the First Peoples exhibit in museum.
RBCM 2110.