The original mortuary pole had been erected at T'aanuu Llnagaay ("eelgrass town") on Haida Gwaii, for a high-ranking woman who was shot while travelling through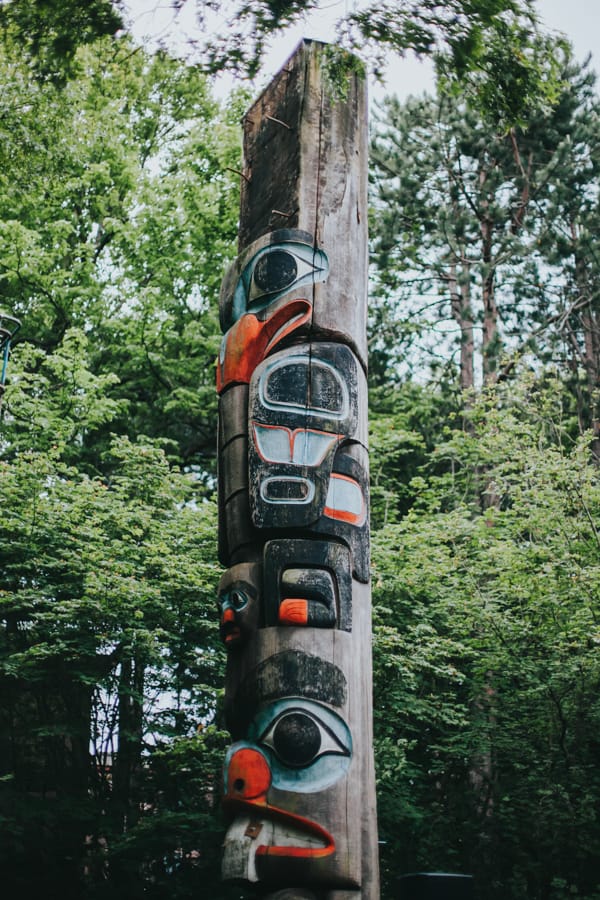 the San Juan Islands. Charles F. Newcombe purchased the original pole in 1911; it stood in Thunderbird Park until it was replaced by this replica (pole 20131), carved in 1955 by Mungo Martin, and assisted by his son David Martin and Henry Hunt. You can see an image of Mungo Martin at work on this pole in 1955 here and here.
In spring 2019, the museum and First Nations communities agreed that the Haida mortuary pole replica had reached the end of its lifespan. The pole was taken down on June 5, 2019, the occasion marked by members of the Haida Nation, who offered song and dances in Thunderbird Park (see IG video here). You can see more photos and video of the ceremonies to mark the poles' return to the earth in Thunderbird Park here.
The pole was then transported to Fort Rupert, where Mungo Martin's great-grandson, Chief David Knox of the Kwakiutl First Nation, welcomed the pole.  Chief Reg Young, the hereditary descendant chief for this pole, had already given his permission for the replica pole to remain at Mungo's village.